Get Face-to-"Toothy" Face with Blacktip Reef Sharks in 260,000-Gallon Coral Reef Ecosystem
National Aquarium visitors will get up close and personal with blacktip reef sharks, stingrays, a giant green sea turtle and other marine life, as well as the vibrant light, color and activity of an entire coral reef ecosystem when the highly anticipated Blacktip Reef exhibit opens its "jaws" in Baltimore's Inner Harbor on Wednesday, July 10.
With one of the country's most comprehensive recreations of an Indo-Pacific reef, the exhibit will be the new centerpiece at Maryland's top tourist attraction and nonprofit. It will feature a school of sleek and fast-moving blacktip reef sharks, known for the distinctive and prominent black tips on their fins. With 15 other major marine life species, more than 60 additional varieties of fish and one integrated, self-contained ecosystem in this 260,000-gallon exhibit, a trip to Baltimore's Inner Harbor will be the closest way to experience an environment of sharks and an endangered coral ecosystem without traveling thousands of miles or getting wet.
"As our name implies, creating exhibits and programs that are indeed national—in scope, importance and impact—is a significant part of our work. Blacktip Reef is an excellent example of this," said John Racanelli, National Aquarium CEO. "It captures the beauty and mystery of an Indo-Pacific coral reef while conveying a compelling message about the urgent need to protect both the habitat and its diverse inhabitants.  This is the first in an ambitious series of innovations here at the National Aquarium, all of which underscore our commitment to inspire conservation of the world's aquatic treasures."
The $12.5 million coral reef exhibit is the first stage of a project to renew and refresh National Aquarium, Baltimore, which draws more than 1.4 million visitors each year. It will introduce several upgrades to improve visitors' ability to get close to the animals, including a 27-foot viewing window that curves four feet into the underwater reef itself.  On the upper level, visitors will be able to look down onto the reef from viewing platforms, while the entire exhibit can be viewed on three sides. Visitors will be able to experience daily diver presentations and feedings.
In addition to the blacktip reef sharks, the exhibit's new attractions include5-foot wide whiprays and camouflaged ornate wobbegong sharks. They will be joined by existing aquarium favorites such as Calypso, the 500-pound green sea turtle, and the beloved zebra sharks Zeke and Zoe.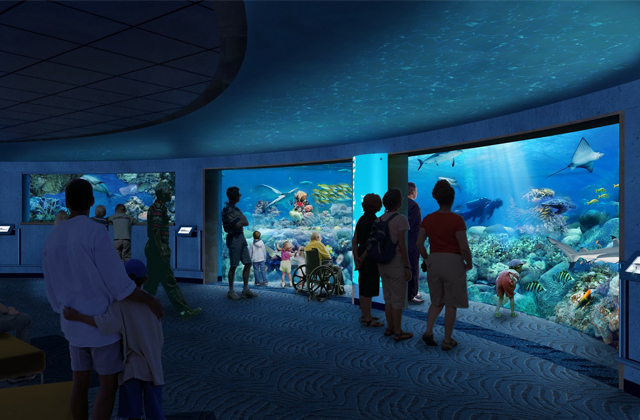 NATIONAL AQUARIUM
National Aquarium is a nonprofit organization whose mission is to inspire conservation of the world's aquatic treasures. It champions environmental initiatives by engaging with visitors, volunteers, education groups and schools to actively participate in the preservation of the world's natural resources and living-systems. National Aquarium, in Washington, D.C. and Baltimore, MD, delivers meaningful experiences through its engaging living collections; science-based education programs and hands-on conservation efforts in the field from the Chesapeake Bay to Costa Rica; and partnerships and alliances with like-minded organizations around the world. For more information on National Aquarium, visitwww.aqua.org.